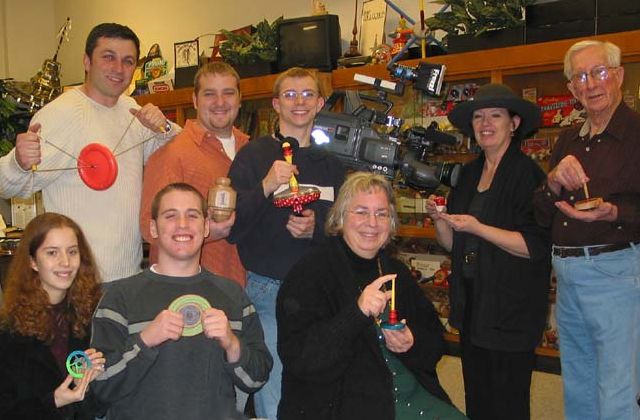 DISCOVER WISCONSIN TV crew and Top Museum volunteers worked together for a 4 hour taping session in January that is part of a 30 minute show on the FOX network and will air in 9 states. During the taping everyone was playing with a variety of tops and eyeing the 2000 tops and yo-yos on exhibit, and then stopped for a brief moment

for this photo.

Volunteers/extras pictured left to right FRONT ROW:

Katrin Schulz-Berg with a 2-part action top, Ben Wepfer displaying a 2-sided optical top with funny visual effects, Jo Ann Toelle holding a traditional fast-launching bracket top, Judith Schulz (Spinning Top Museum director and tops expert) holding a peg top used around the world, George Karcher with a wood palm-style top,

TV Crew BACK ROW: Gary Cline (Managing Producer) spinning a giant version of the old fashion button toy, Mike Luce (Videographer) holding a wood game top turned on a lathe by Judith, and Chris Lorcher (Videographer/Production Assistant) with the classic pump top that hums.
FOX TV SHOW TELLS 9 STATES ABOUT
THE SPINNING TOP MUSEUM
& LOGIC PUZZLE MUSEUM IN BURLINGTON
(let us know if you see it where you live... hope you enjoy it...)
Discover Wisconsin aired on FOX TV letting tourists from 9 states in on a real top secret in southeastern Wisconsin. The television crew came to tape a segment about the unusual Spinning Top Museum and the Logic Puzzle Museum; which draw visitors from around the world. Both museums also have special intriguing exhibits, and hands-on time; plus the Top Museum shows videos followed by a live presentation by the Top Collector, Judith Schulz. Gary Cline, Managing Producer of Discover Wisconsin said, "We came here because this is one of the most unique places to see and experience in Wisconsin." "The Top Museum is a great family visit or tour group stop with 2,000 tops, yo-yos, and gyroscopes on exhibit, 35 types to play with, videos to see followed by a live presentation. We find that we actually have to make people leave at the end of their two hours," said Schulz . "And the Logic Puzzle Museum is almost entirely hands-on, with bells to ring when you solve a brain puzzle, and time to make a puzzle to keep during the 90 minute visit which is filled with fun, laughter, and lots of "I did it," she added. Both museums are for ages 4-104.
The 30 minute Discover Wisconsin TV show on FOX covers several places in Wisconsin including these 2 museums airs in 9 states with about 750,000 viewers. Other area destinations featured in the program include a kringle shop, the Racine Art Museum, area Frank Lloyd Wright buildings and the Salmon-A-Rama.
When the crew arrived for the taping of the Top Museum, they were immediately sidetracked by the Logic Puzzle Museum with more than 50 different hands-on brain and mechanical puzzles. Producer Gary Cline was intrigued also, so they spent time at each museum, trying out the challenging items for themselves. "Eveyone is a kid again, here, "noted Jo Ann Toelle, volunteer, as she observed the crew playing intently.
The crew included the producer and two videographers plus 5 volunteers from the museums. Volunteer George Karcher demonstrated a whistling old fashioned toy for the crew plus wound up peg tops as fast as he could to keep up to assist Judith Schulz when she was throwing the peg tops at the camera and through the air. George has been volunteering at the center for more than 10 years now, along with his wife, Helen Karcher.
Jo Ann Toelle helped by spinning tops for the camera, arranging for power cords, helping set up scenes, and coordinating the volunteers. She is experienced at this from her volunteer work when Ripley's Believe It or Not TV crew taped for10 hours at the museum. Volunteers Katrin Schulz-Berg and Ben Wepfer took photos for the museum's archives, set up props, and actually spin tops for the cameras as "extras."
The show included a segment on the museum's annual fun Yo-Yo Convention which featured an interview and tricks with Barry North, Chuck Dawson, Anthony Jerving, John Crivello, Dan Ickler, Tom Cannon, Chris Larson, Scott Nesham, and others.
The 13th Annual Yo-Yo Convention will be April 18-191-20, 2008 in Burlington, Wisconsin.
The World-Wide Yo-Yo Contest on Sunday is open to anyone from anywhere.
A Looping Yo-Yo contest is held both Saturday and Sunday.
These 3 contests are sanctioned by the American Yo-Yo Association .
Discover Wisconsin TV show has been hosted for 11 years by Stephanie Klett, a former Miss Wisconsin. The show originated in 1987 and has been nominated several times for the Emmy, and has received many Telly Awards and the Communicator Award.
Spinning Top & Yo-Yo Museum or the Logic Puzzle Museum will give you hours and details. Located at 533 Milwaukee Avenue, Burlington, each non-profit, educational museum have their own unique hours and are not open every day, so always call ahead (262) 763-2946.
SCHOOLS: call us for details about programs we offer at your school or about field trips here.
TOUR GROUPS: adult tour groups, mystery tours, senior center trips, organizational outings, company events, and club trips have all enjoyed their visit here. Your group will, too.
TIME WARNER CABLE spent an afternoon here recently, taping and interviewing both at the Spinning Top & Yo-Yo Museum and the Logic Puzzle Museum . We will post futher information when it is ready to air, which will be Wisconsin On Demand , so that you can watch it at your leisure.