___________________________
Top Spinning World Records
Certified and registered with the Spinning Top & Yo-Yo Museum
Burlington, Wisconsin USA www.topmuseum.org Judith Schulz, Director.
CATEGORY
The world's heaviest wooden top of traditional
peg shape, spun by only one person using a rope.
(no mechanical methods or supports are used.)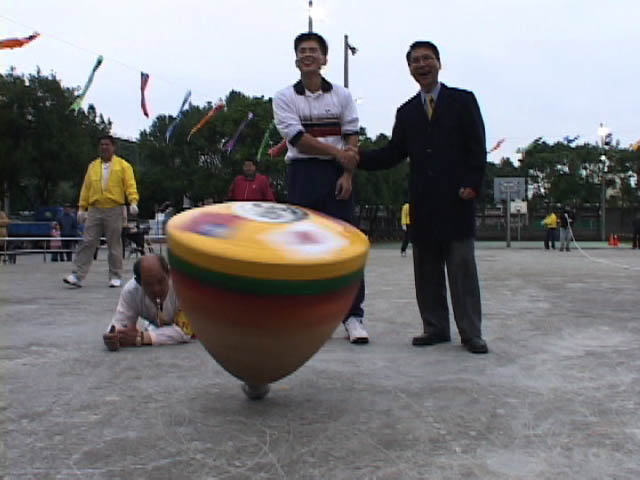 World Top Record Holder Chang Tai-Yuan with Mayor of Dashi, Taiwan
Certified by the Spinning Top & Yo-Yo Museum, Burlington, WI USA
TOP WORLD RECORD HOLDER
Record made on December 5, 2005
in Dashi, Taiwan.
Top weight 60.29 Kg. (132.6 pounds)
Top Spinner/Record Holder: Chang Tai-Yuan
Spin Duration: 39 seconds (meets min. 20 second time required)
Recorded and approved Jan. 7, 2006
Other facts:
Top width 67.8 cm (26.69 inches)
Top Height 69 cm (27.17 inches)
Top's wood: cedar
Rope length: 18.7 meters (61.35 feet)
Weight of Rope: 1.75 kg. (3.86 pounds)
Rope: cotton
This world record was announced on the Tokyo, Japan TV
program Home Stay in the World, Yuki Ota, producer; Jan. 2006.
To challenge the above record: Persons wishing to contest this record must exceed the wood top's weight, and be spun by only one person, with a traditional peg top shape and rope; and submit a completed application and fee. The minimum spin time for challengers in the heaviest top category is a minimum of 20 seconds, spinning independently upright.
................................................................
SUBMIT OTHER
TOP SPINNING RECORDS
FOR POSSIBLE INCLUSION,
Please email us first with a short, one sentence description of the record you wish to set, at least 30 days before you hold your event or challenge. All categories must be family-friendly, and all decisions of the Spinning Top & Yo-Yo Museum are final.
No charge to submit in writing your idea through email, for the record you will try to set. We will respond to let you know if it is a "go ahead" or not. We will then email you the forms and requirements. Idea must be in writing first, not a phone call.
Once you have attempted the record; with proper certifications, standards, videos, photos, judges, etc. then submit the written and signed application with $21 non-refundable fee which must accompany the application (can be paid by money order or paypal,) with a separate fee for issuing certificates if you request them. The small clerical fee is for a bit of the time involved to review applications. We are a nonprofit, educational museum, run on a shoestring, and without government funding.
All submission information subject to change.
................................................................
Spinning Top & Yo-Yo Museum
533 Milwaukee Avenue
Burlington, Wisconsin 53105 USA