________________________________________________________________________
"Our folks had an outstanding time at The Museum.
We laughed, clapped, learned and reminisced.
So glad we met and that we were able to coordinate
a fantastic experience for all of us!"
Senior
Citizen
Tour Group; Rockford, Illinois
_____________________________________________________________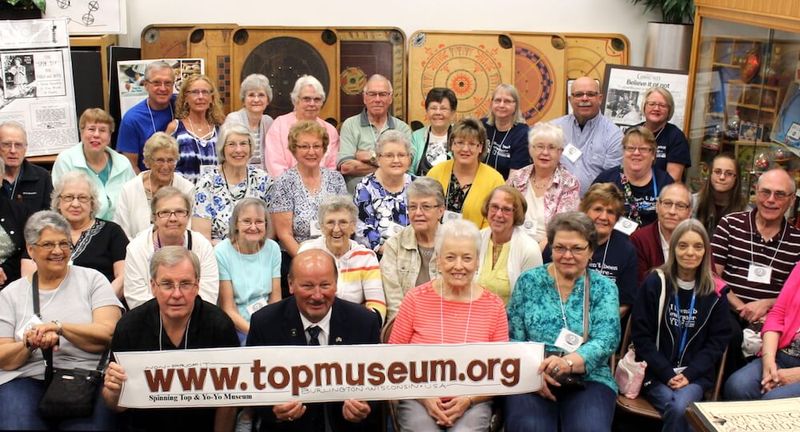 __________________________________________________________________________________________________________________________________________________________________
~THE TOP MUSEUM TOUR/PROGRAM~
*During the lively Spinning Top & Yo-Yo Museum Program/Tour/Visit:

---
TIMES AND ADMISSION
Schedule a time of your choice for large groups of 35-50!
(Small groups: individuals, families: specific times to visit the Spinning Top & YO-Yo Museum)
Discounts for groups of 35-50 people. Regular admission is $15/person,
Discount for groups of 35 or more people is $2 discount per person, if deposit is paid on time.
Minimum Non-refundable advance deposit covers up to the first 35 people
+ $13 per person for each additional person over 35 people, with balance due on day of visit.
Admission is charged per person, every age and everyone present.
You may have less than 35 people, but the group minimum fee applies

information subject to change

---

GROUPS
Submit the form*/information from bottom of the page, plus call to schedule a group.
We will need to confirm things over the phone, too.
Groups of every type have enjoyed the Spinning Top &Yo-Yo Museum! Yours will, too!
-mystery tours -bank group tours -senior groups -Scouts, 4-H, youth groups -church & synagogue groups
-car clubs -Red Hat Ladies -Dodge Viper Clubs -Elder Hostel groups -engineering groups
-Home Schoolers -school field trips -antique collectors -family reunions -Harley Motorcycle Clubs
-Science groups -History clubs -service clubs -foreign exchange students -social organizations
-college classes -employee groups -executives -assisted living outings - birthday party groups
-YMCA, YWCA Groups -group homes -day care groups -summer camp groups
Your group will remember their visits here. Both men and women, boy and girls enjoy these
unusual museums and special events. Senior citizen tours love this museum as much as the kids!
262) 763-3946 for more details
*The Spinning Top & Yo-Yo Exhibit is just one feature of your visit:
Exhibit & collections include
CARROM BOARDS CRACKER JACK SPINNERS GAMES WITH TOPS GYROSCOPES
OPTICAL TOPS PUMP TOPS PEG TOPS ADVERTISING TOPS
ANTIQUE TOPS MODERN TOPS JAPANESE TOPS RATTLEBACKS
YOU-PAYS DREIDLES, PUT 'N TAKES MEMORABILIA YO-YOS, Award PATCHES, ETC.
OLD TOY ADS TOPS & TOYS FROM AROUND THE WORLD and so much more
AND ALSO..... FUN.....40 DIFFERENT TOPS & TOP GAMES TO TRY! THEN A LIVE PRESENTATION!
The gift shop is open after the program with hundreds of Spinning Tops and related items for sale.
Selected tops for sale from the gift shop are shown on the catalog page
---
______________________________________________________________________
~OR...ADULT BUS TOURS: QUICK, BUS STEP-ON STOPS~
A QUICK 20 MINUTE STOP! Something different and quick…
Passing through the area, but don't have time for the full tour & show at the unique Top Museum?
Try this 15-20 minute stop, everyone stays on the bus…

the "tour" comes to you
! For adult tour groups only. Contact us for fees and options.
________________Option A___________________
SEE THE WORLDS SMALLEST TOY TOPS
Meet the world famous Top Lady, top collector and expert, as she walks the display
case down the aisle with 7 tiny, tiny tops to see. Question & answer time with your
microphone. Each tourist also receives a little souvenir top to keep.
__________________Option B.________________
MEET A CELEBRITY: The Top Lady, who appeared on Ripley's Believe it or Not TV.
She shares a few stories about Ripley's taping, answers questions and shows a 2 minute video clip
on your bus if you have the equipment. Your bus can easily drive past the 3 locations
Ripley's
used as
you depart Burlington.
She has also been featured in Reminisce Magazine.
Each tourist also receives a little souvenir top to keep.
_______________________________________________________________________________


~AND special events throughout the year:
Consider these fun events for your group, too!
(families, kids, even Seniors!)
~ Yo-Yo Convention & ACTION TOY Celebration
~ Exhibit of 1000 Yo-Yos & Memorabilia! Plus 10 Hands-On Gizzmos to Try!
~ Hands-on Mystery Objects 150 "Mystery Objects!" to try to figure out what they are!
~ Tongue Twister Contest!
---
AND
VISIT THIS HANDS-ON MUSEUM~
_______________________
LOGIC PUZZLE MUSEUM
A most unique, fun 90 minute visit: 50 hands-on brain and mechanical puzzles to play with and try to solve,
see exhibit of vintage and parlor puzzles, plus make a puzzle to keep. Groups of 15-25+ people may
schedule a visit at specific times; if you have a larger number, groups are rotated. Gift shop open
during and after. Museum is for ages 5-105, not younger. A great inter-generational experience
for ages 5-105, or for groups of adults. Advance non-refundable deposit for groups.
............................................................................................

TAKE A LOOK......

-View a 360 degree panoramic of our buildings and street in downtown historic Burlington, Wisconsin, USA!
Use mouse to go left or right, control & shift key to zoom in or out!
Click here: http://homepage.mac.com/panophoto/.Movies/Top4LoRez.mov


___________________
~ANNUAL SPECIAL EVENTS~
for small and large groups. Some discounts are available for large groups, with advance payment.

MYSTERY OBJECTS!
What are these things anyhow?

TOURS, GROUPS & FAMILIES WELCOME ! Hands-on curiosities: gadgets, gizmos, antique tools, odd toys,
devices, parts & pieces! What are these things??? Clues and impossible items. Group tours welcome with reservations.
Admission Children must be with an adult.
Logic Puzzle Museum Free parking. 533 Milwaukee Av, Burlington, WI (262) 763-3946

__________________________
INTERNATIONAL ANNUAL
TONGUE TWISTER CONTEST
Groups welcome! How long can you go? Classic & modern phrases twist the
tongues of everyone. Prizes! (Like a "portion of a peck of pickled peppers," and a "toy boat," which is a tongue twister object!)
Laughter promised for everyone! Admission per person, all ages.
(Past years: 2 national TV shows called for coverage of it!, and REAL SIMPLE Magazine has written about it.
National Public Radio
interviewed
the winners & ran a segment about it!)
Logic Puzzle Museum Free parking.
www.logicpuzzlemuseum.org
_________________________________________________
Annual

YO-YO & Skill Toys CONVENTION


Events have limited space. Check for details on website.
(Bring families, too!) Each day is
different
so check schedule
HUGE exhibit and collections to view, enjoy demonstration, try the I Spy Hunt, and Yo-Yo classes for groups
by pre-arrangement. Classes, yo-yos on exhibit, lectures, demonstrations, fun little contests, meet celebrities.
Past years contests have been sanctioned by the American Yo-Yo Association, with sponsors including
Yo-Yo Factory and Duncan.

Worldwide Yo-Yo Contest.
And Contests of
hula hoops, diabolos, cup n'ball, the paddleball marathon, door prizes, demonstrations.
Free Parking. (262) 763-3946
Spinning Top & Yo-Yo Museum, 533 Milwaukee Avenue, Burlington, Wisconsin, 53105, USA
.......................................................

and, of course, you may visit our gift shop or look here:
Tops & Gyroscopes for Sale

...................................................................................................
*GROUP VISIT RESERVATION FORM
Copy this and paste into an email, fill out, then send to [email protected]... thanks
Submitting this does not obligate you to anything, it will just help us to help you refine your plans to visit.
Organization name:
Your Name:
Street address:
City, State, Zip:
Your Phone Number: ( )
Your email:


Number visitors anticipated:
If children: Age range of children:
All adult group? yes or no
Special needs:
To come to the Spinning Top & Yo-Yo Museum?

To come to the Logic Puzzle museum?
To come to both museums on the same day?

Arriving by bus, cars, small vans, or ?
Prefer morning or afternoon or other?
Prefer which days of the week?
...................................................................................................