OLD-FASHION
PEG TOP SPINNING
CLASS
for ages 7-adult, includes wood top,
with metal peg & string/button to keep!
.... Learn how to spin these tops from the expert
who taught the stars on an MGM movie set!
advance registration needed: call 262-763-3946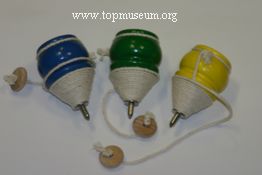 Each person receives one top with button & string like this to keep!


Wednesday, December 31, 2014
PEG TOP SPINNING CLASS
10-10:45 am with advance registration, call ahead.
Get a wood top/string to use & keep!
$20/person, includes instruction, and includes the $10 top to keep!

.....with separate fees & registration
more fun today:
+11-noon Yo-Yo Class separate fee & registration



(OR Top Spinning Classes by appointment for groups of 6-10 people.
It may be possible to have your class, with enough participants, before or after you visit the Spinning Top & Yo-Yo Museum program... call to arrange a time)

THE TOP SPINNING CLASS
Learn to spin and throw a traditional peg top that is used all around the world. Instructor is the tops expert from an MGM movie who taught the movie stars top spinning, and actually spins tops for the film. The spinning expert has appeared on Ripley's Believe It or Not TV, Discover Wisconsin, PBS' Wild Chicago TV, and at international festivals in Europe.

Class includes professional instruction, individual coaching; and a great wood, classic top/metal tip and string/button to keep. You, too, can be taught by the teacher of the stars! The instructor has appeared on national and regional television with these tops, and been featured in magazines, newspapers and in books, plus has a collection of thousands of tops.

Top Spinning Class fee: $20/person, includes a $10 classic wood top & string/button, and professional instruction.
Ages 7-107. Participants must be at least 7 years old.
Top spinning classes can be offered at other times here at the Spinning Top Museum are great for groups of 6-10 people: birthday parties, family outings, a Scout troop activity, church groups, homeschooling groups, and other occasions.
AT YOUR SCHOOL:
Large groups sessions or a series of sessions for different groups or classes can be offered also with or without tops to keep. We can travel to your site, for large groups: fees are based on time, distance, number in group, etc.
another fun option....................................................................................................................................
TOP SPINNING CAMP A day to make your head spin!
for your group, by appointment
Ages 7-adult Spinning games, optical illusions, make custom spinner & a string twirler, learn to spin the throwing style pioneer top from a professional top spinner, play carom/ skittles/ tornado tops/ top the top, plus see the museum exhibit, videos, try more than 35 types of tops, and demonstrations. Try to levitate a top (itís possible), examine tops that light up! Bring a bag lunch. Fee covers museum admission, program, workshop, materials, and a set of tops to keep. Advance registration only. Minimum of 15 people.