ADULTS & KIDS TAKE PART AT YOUR HOME OR YOUR SCHOOL, TOO!
ALL AROUND THE WORLD!
Everyone: adults, students and children may take part as an individual, family, class or group. Seniors, science labs,
math and art classes, libraries, universities, day cares, and CEOs are all invited to take a spin. Just take one or more
tops and spin them again and again to get a large total of spins which will be added to the total from around the world.
The museum's goal is 10,000 or more spins in total. (Spin over and over and over!)
Celebrate & recognize this scientific fact!
Then email us your group photo & how many tops/spins, city, state, country.(Details*)
Email this page to friends & family, so they can take part, too.
Which state and which country will have the most participants?

National Science Foundation says take a spin, too!
Children & motion

> > > > It's always the second Wednesday in October every year.
_________________________________________________________________
We will watch for your email with # spins, location, photos, etc...
of spinning wherever you are! [email protected]
> results of 2022 to be posted soon... photos and facts are still arriving 2.5 weeks after so please check back later
__________________________________________________________
2021... many took part around the world...
this one made the TV news that night!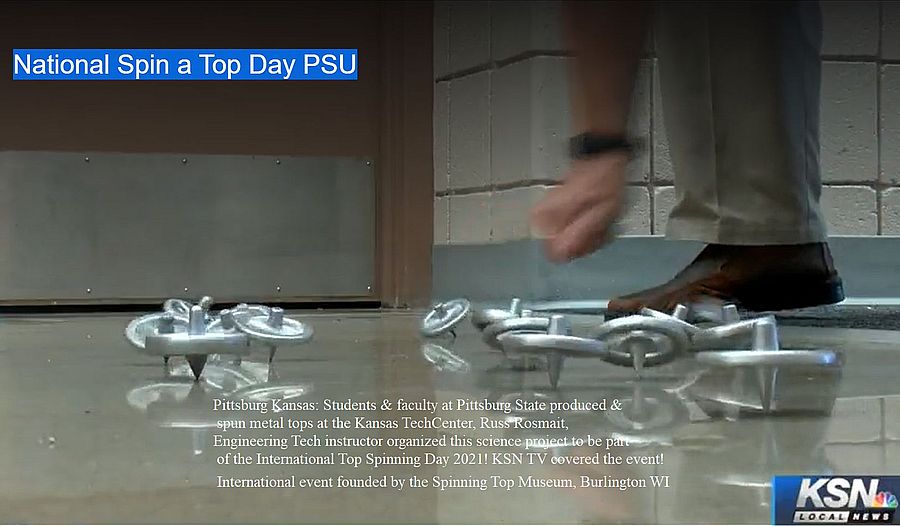 Pittsburg Kansas: Students & faculty at Pittsburg State University produced
& spun metal topsat the Kansas TechCenter, Russ Rosmait, Engineering Tech
& Professor of Manufacturing organized this science project to be part of
the International Top Spinning Day 2021!KSN TV covered the event! cool!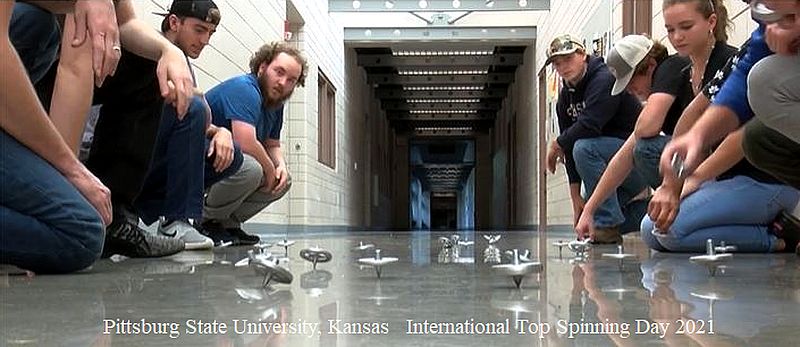 _____________________________________________
2020 ---A few photos of the Spins all around the world on International Top Spinning Day 2020....included:

Wisconsin-Spinning Top Museum Israel Poland Spain Israel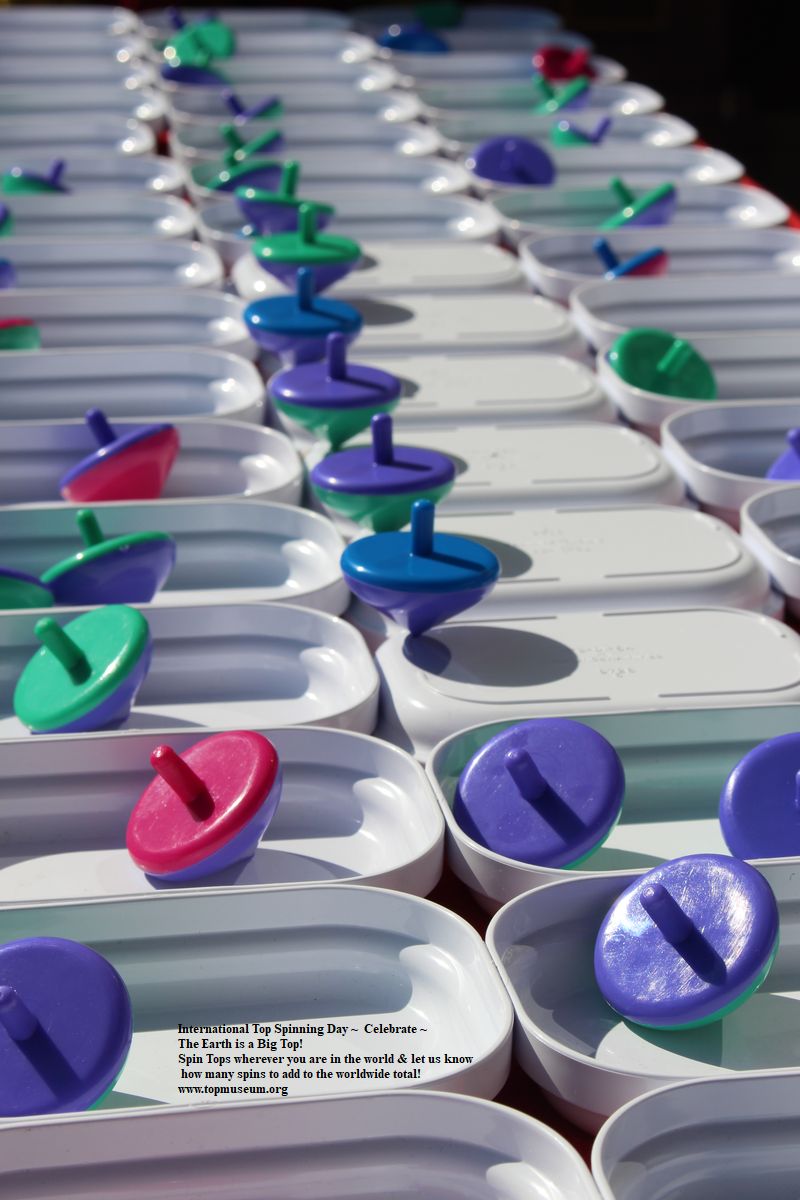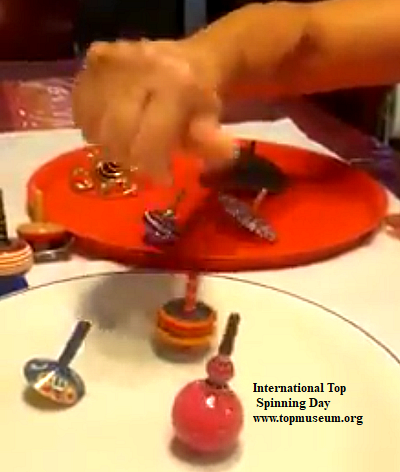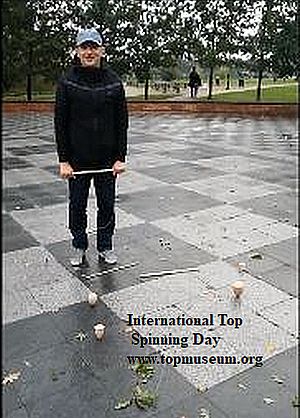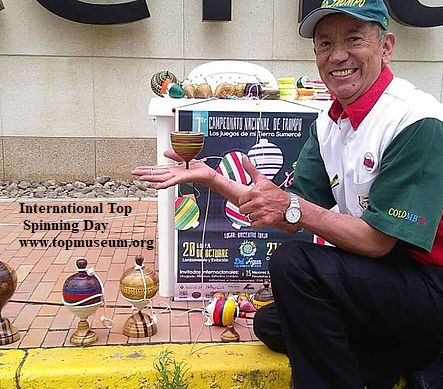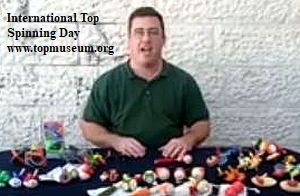 France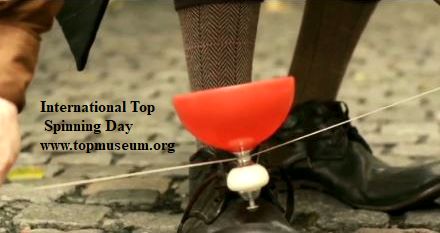 France Israel Texas Israel Minnesota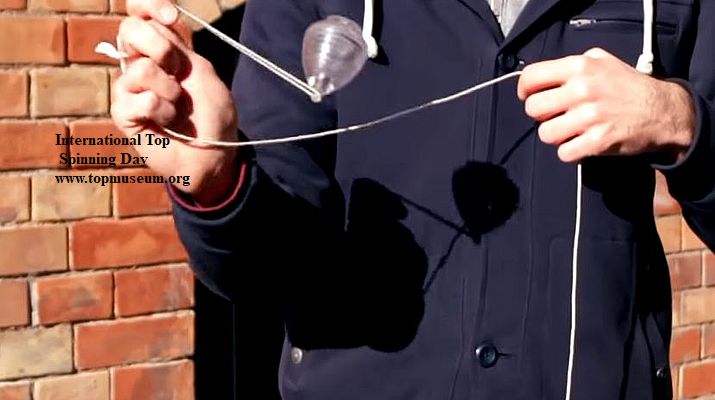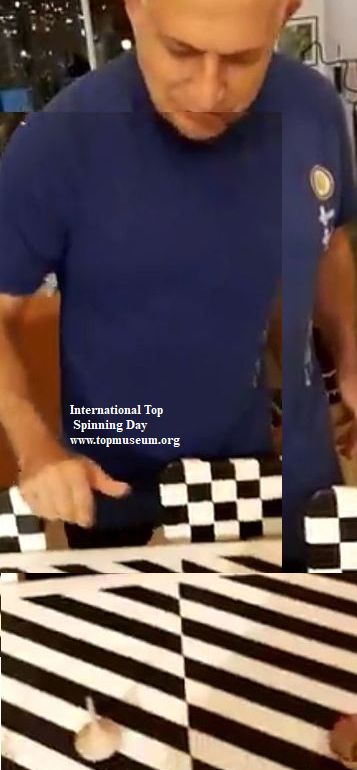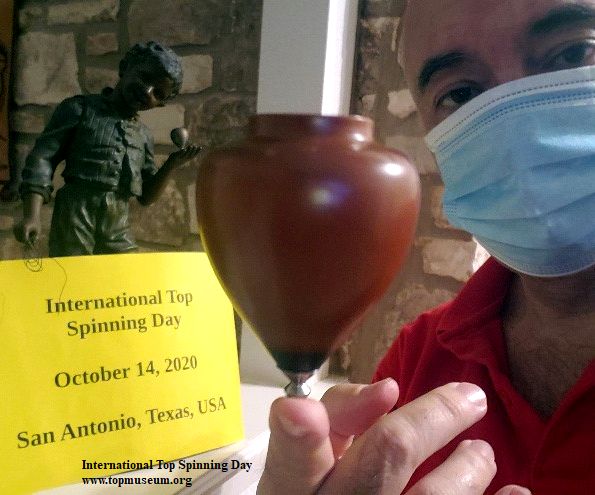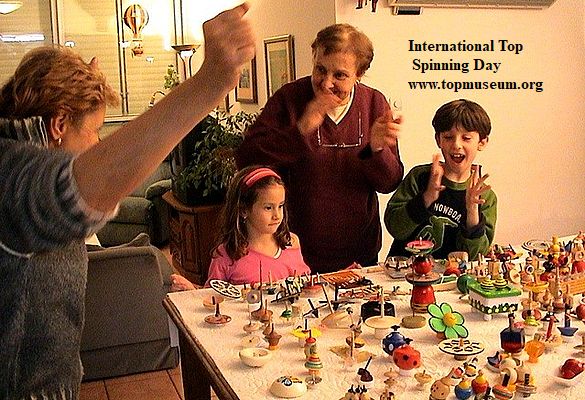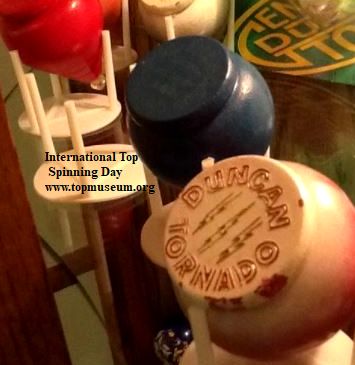 Minnesota Paris France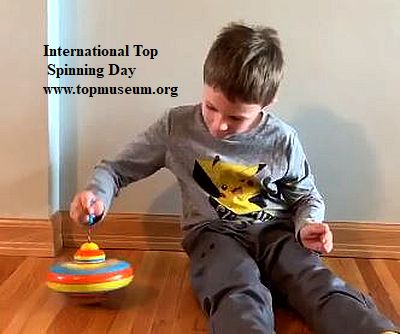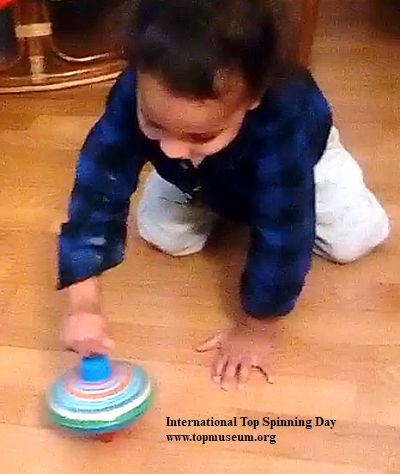 copyright
www.topmuseum.org


.

And many more took part .....if we missed your photo and info, please email us. [email protected]
_____________________________________________________
.............................................................................................................................................................................................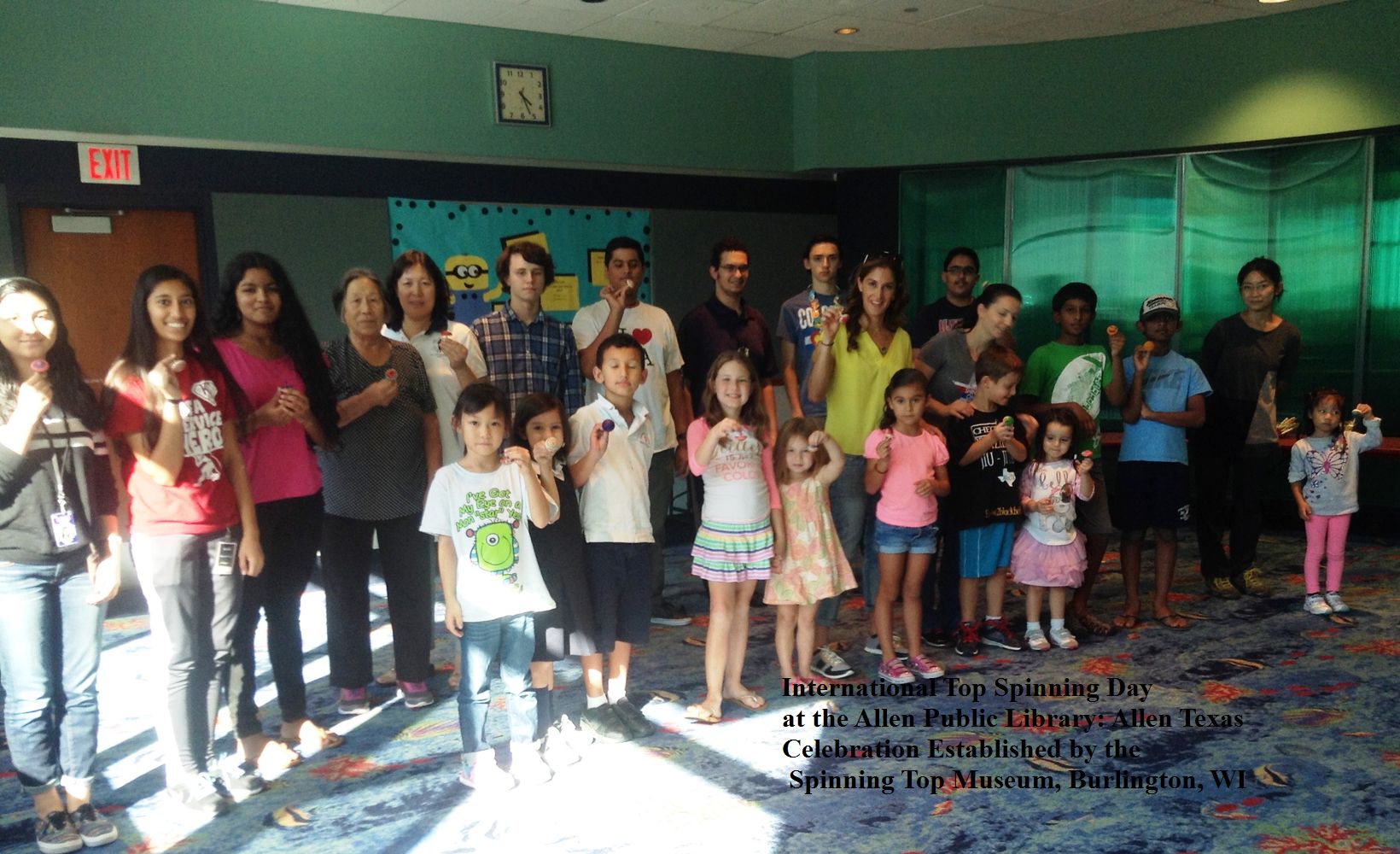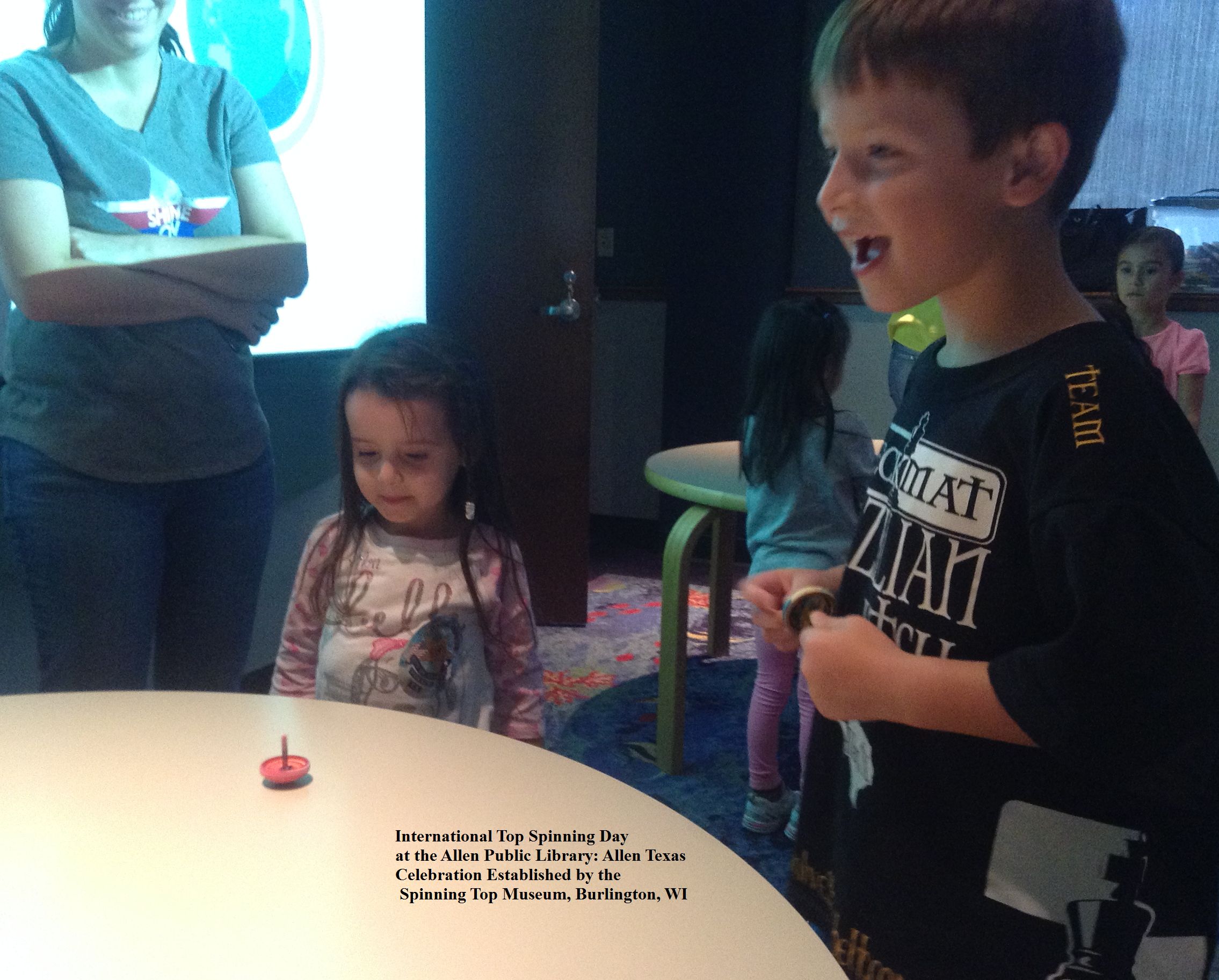 Allen Public Library, Texas! 2015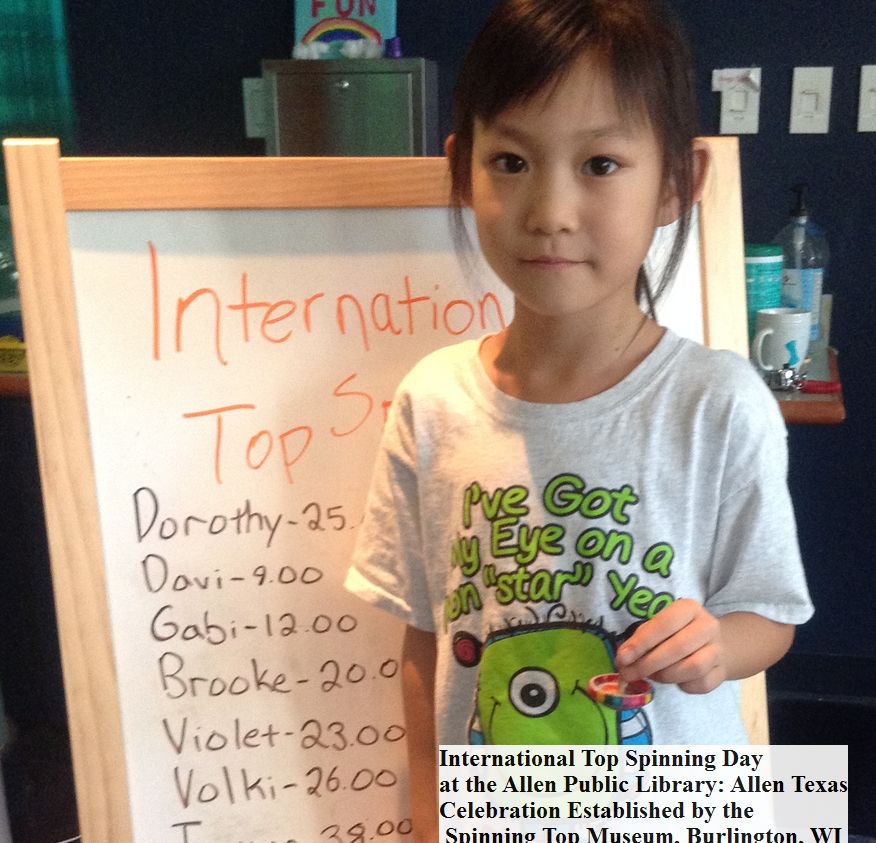 Help add your country, city, state, or school to this year's list!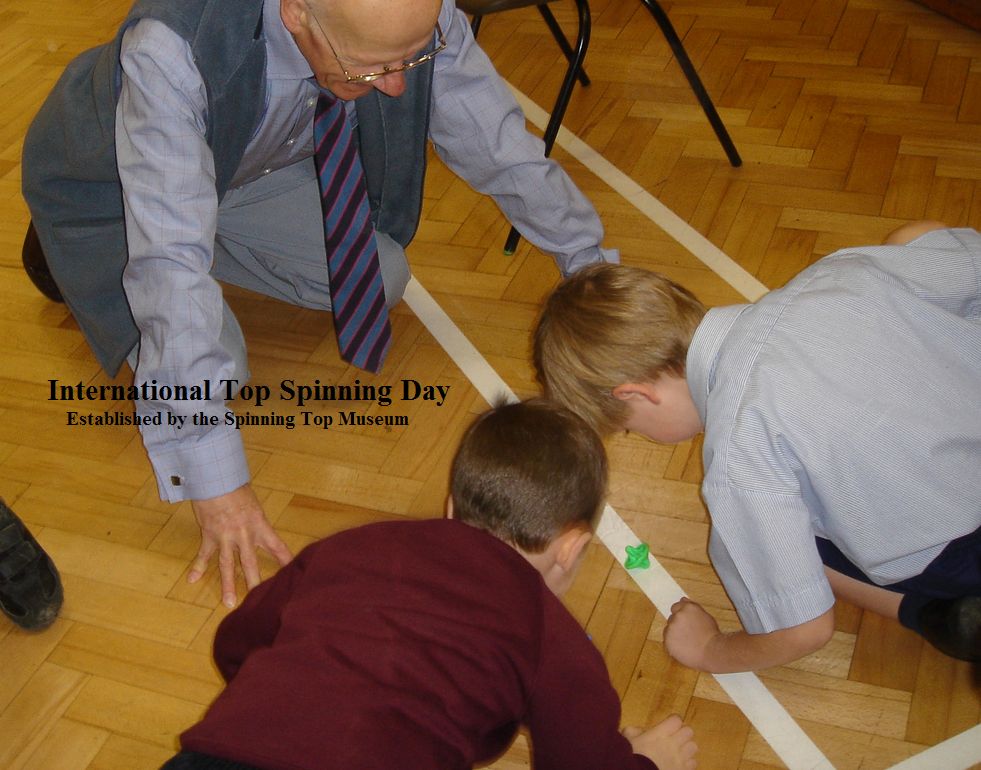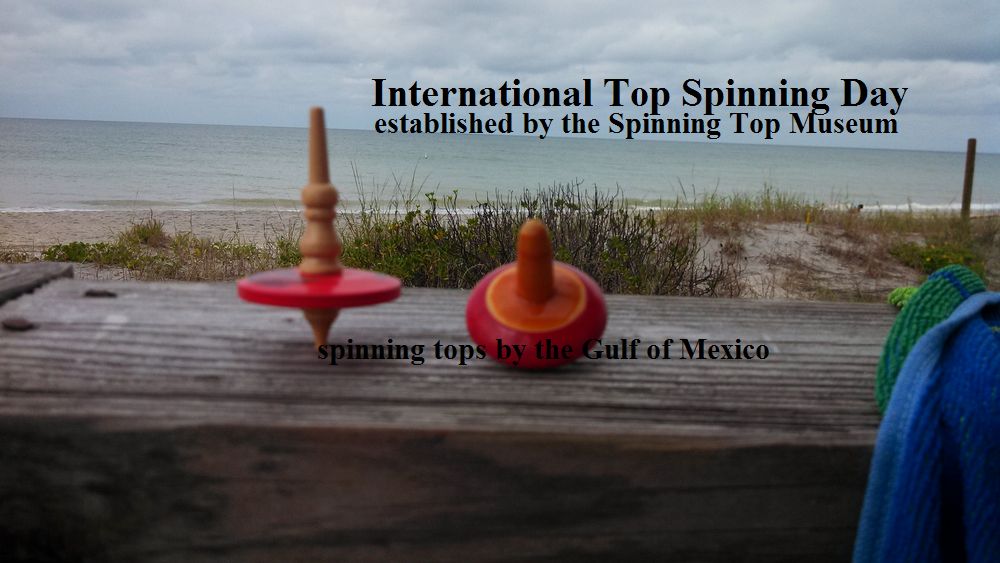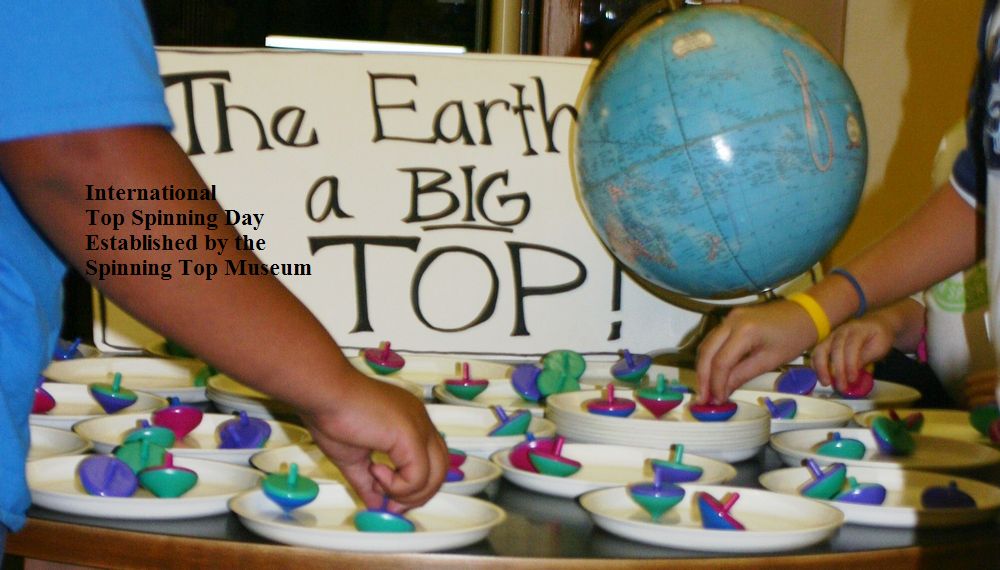 ---
2013 International Top Spinning Day
The national monthly magazine Family Fun Magazine has a full-page feature of fun things to do, and the October 2013 issue featured the free International Top Spinning Day. Family Fun has included it in a
number of previous issues, too. The free worldwide event was founded by the Spinning Top & Yo-Yo Museum of Burlington, Wisconsin to celebrate the fact that the world is a big spinning top. This was the
13th Annual event, with people spinning tops around the world as part of the scientific celebration. In past years National Public Radio has talked about it and Nick. Jr. Magazine recommended the celebration.
A National Science Foundation magazine encourages students and teachers to take part in this free, annual science event. Many newspapers listed it, too.
A few of the reports sent in for 2013 include students, adults, families:
--Avoca Iowa Public Library. Parents and children at the library spun tops with the visiting Top Lady from the Spinning Top Museum of Burlington, Wisconsin. 658 spins
--Farm family in Knox Township, Iowa: 45 spins
--Family in Pottawattamie County, Iowa: 3 people, 52 spins at the supper table
--Vineyard Christian School of Lancaster, California 114 participants, 66,420 revolutions "We had a lot of fun. So much more laughter and immeasurable joy!
The students and parents were delighted to participate in twirling tops. Members from our church staff also joined us. Several people said they hadn't twirled a top in decades!! Would definitely do this again!
Thank you for the opportunity."
--Venice, Florida on Gulf of Mexico. 4 people took part, ages 7-83
--Witchita, Kansas. 2 sisters, spun 8 tops "my sister and I got together and spun 8 tops, had fun doing it"
--Heath Elementary School, Health, Massachusetts. Whole school, 62 adults and children, spun 62 tops!
--Woodward Public Library in Woodward, Iowa. 82 people took part
--Hillside Elementary School of Livingston New Jersey. 184 students +staff, for 3, 270 spins! "We all had a wonderful time spinning tops in Livingston NJ
(Essex County) at Hillside Elementary School!! The students and the staff looked forward to visiting the top spinning table throughout the day to participate in this worldwide event. The best
part was the smiles and the enthusiasm as the children spun the tops and counted their spins. At Hillside, we had 20 tops for students and staff to spin throughout the day. We had a total of
184 students (grades K-5) and staff members record an amazing 3,270 spins!!!! We spun our tops on a table and in the hallway near our main office. It was a fun experience! "
--Sacred Heart School, Shelby, Ohio. On behalf of my preschool class, we would like to report that we spun 8 tops on for International Top Spinning Day. The kids
and I were very excited to join the fun and hopefully get 10,000 tops spinning around the world!
--Wesley Academy, Saint Simons Island, Georgia. PreK, class of 14 students got 31 tops spinning all at once for International Top Spinning Day.
--and many top collectors and spinners who spin tops every day on several continents.

---
High School class in Hawaii Top Museum window, Burlington, WI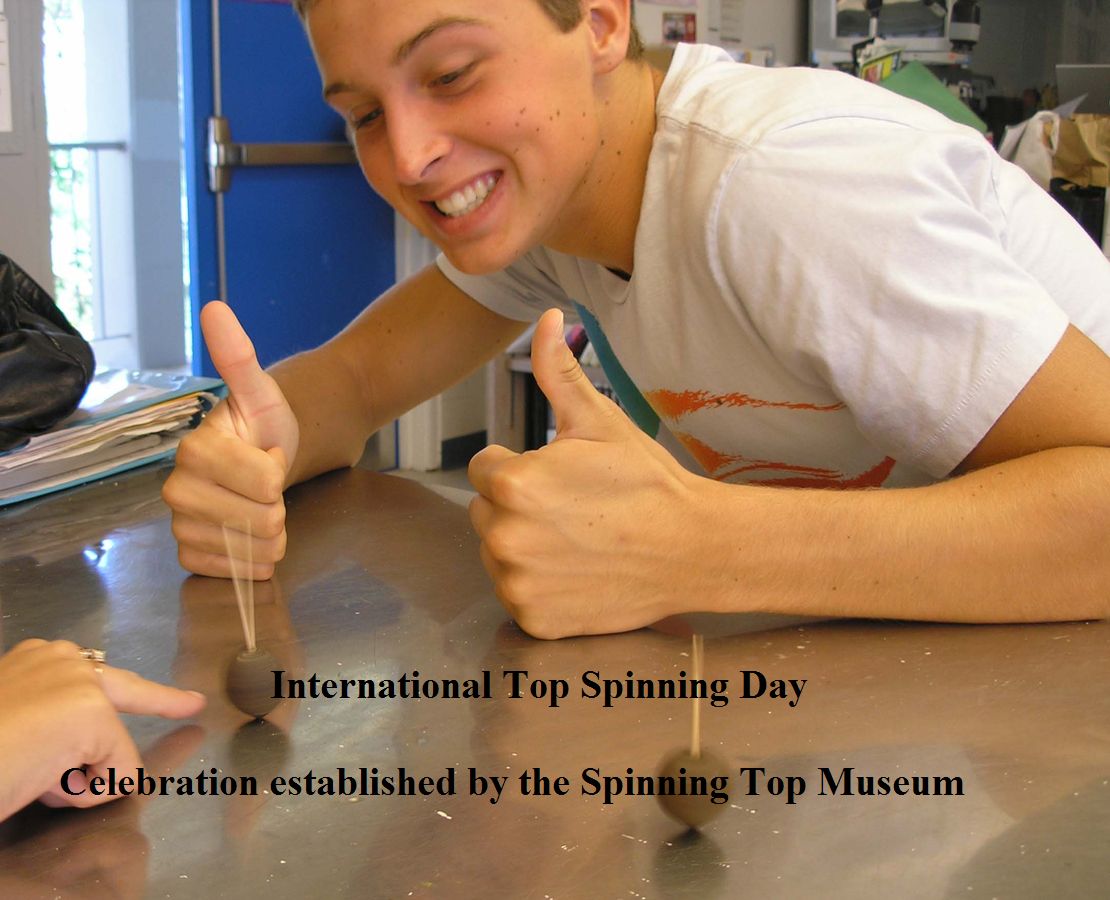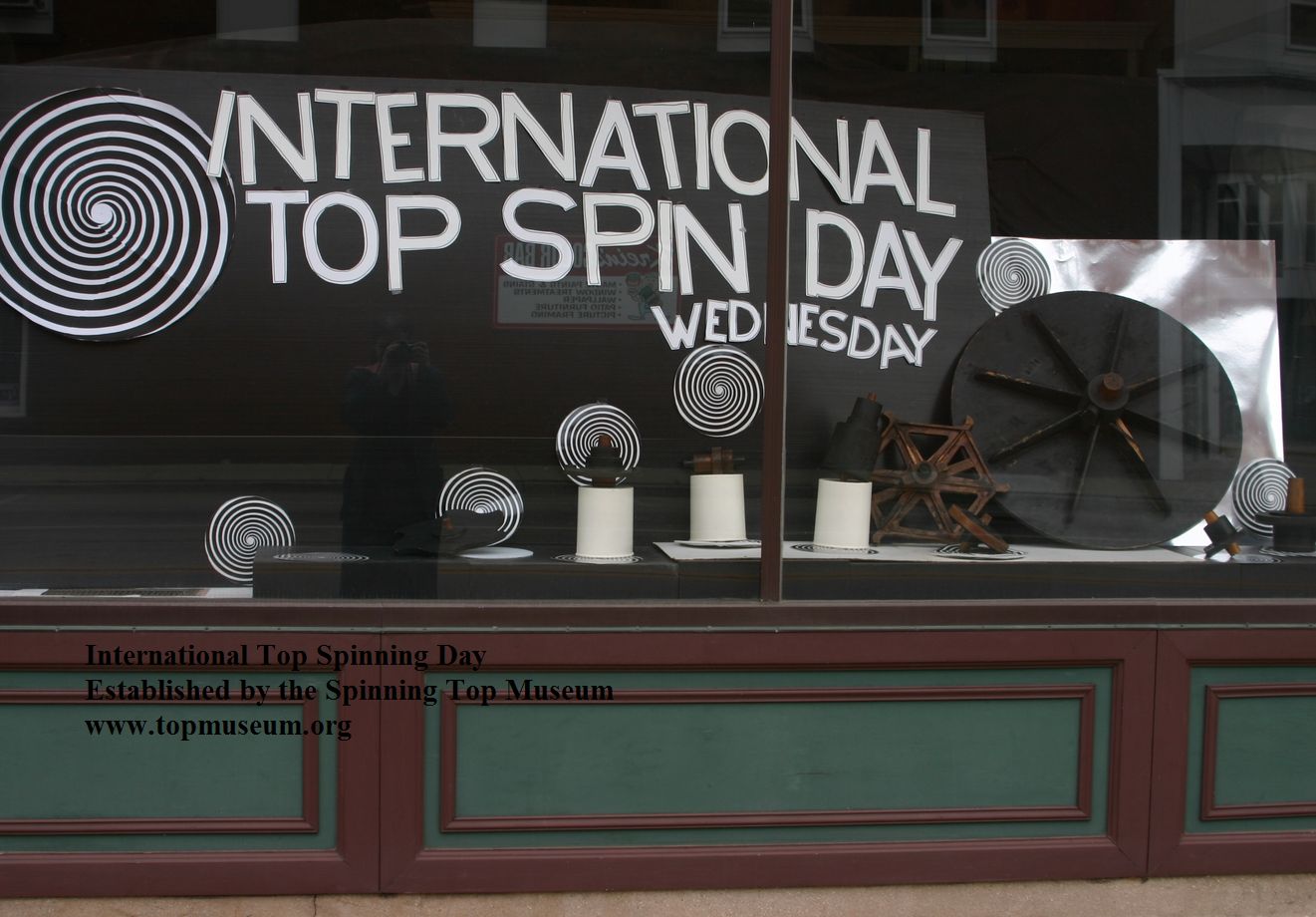 ---

A National Science Foundation 2011 magazine wrote a piece about this free science event!

Some of the participants in past years were from:
England, South Africa, France, Switzerland, Malta, Oklahoma, Iowa, Michigan,
Pennsylvania, Wisconsin;Bioengineering Students Association from Faculty
of Medical Bioengineering Iasi, Romania;
St Cloud Children's Home in Minnesota had 600 spins;
staff at Pow!Science; Greene Elementary Kindergarten from
Iowa had 1,323 spins; High School art class in Hawaii!,
Katie & Sarah spun tops in the elevator & elsewhere on campus
at Oklahoma College for 50 spins; Geoffrey Budworth organized an event
at Leehurst Swan Independent School in Wiltshire, England with 300-500 spins;
St. Peter's Lutheran School and Rainbow Preschool of Waterford Wisconsin;
Burlington Library spinners added a total of 9,055 spins in one night.
and there are more...
---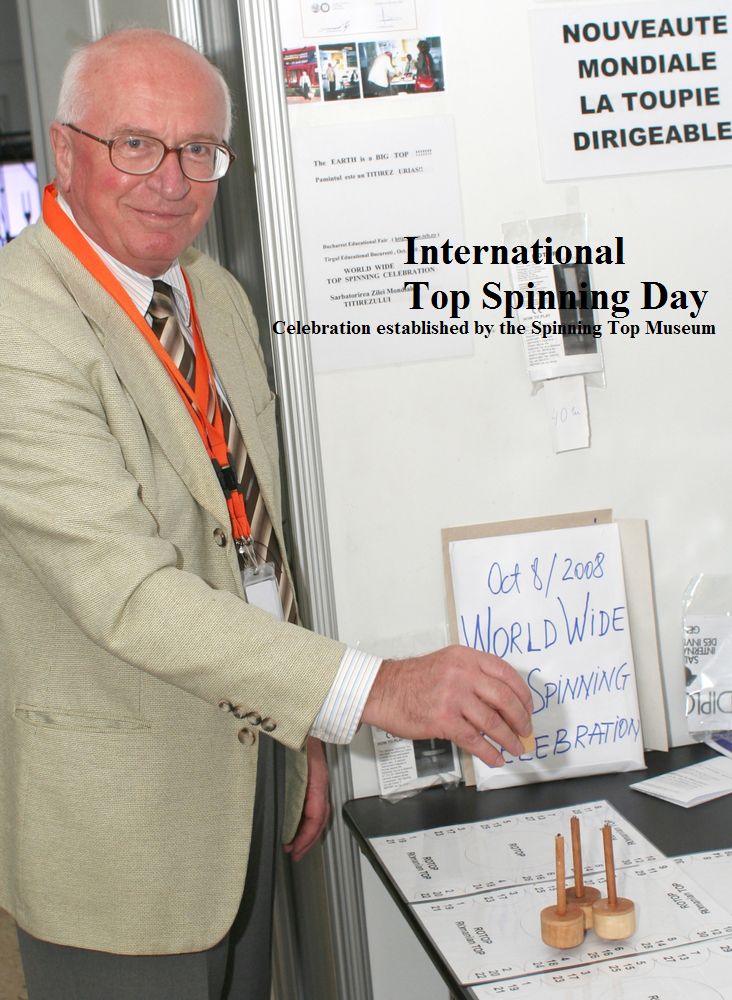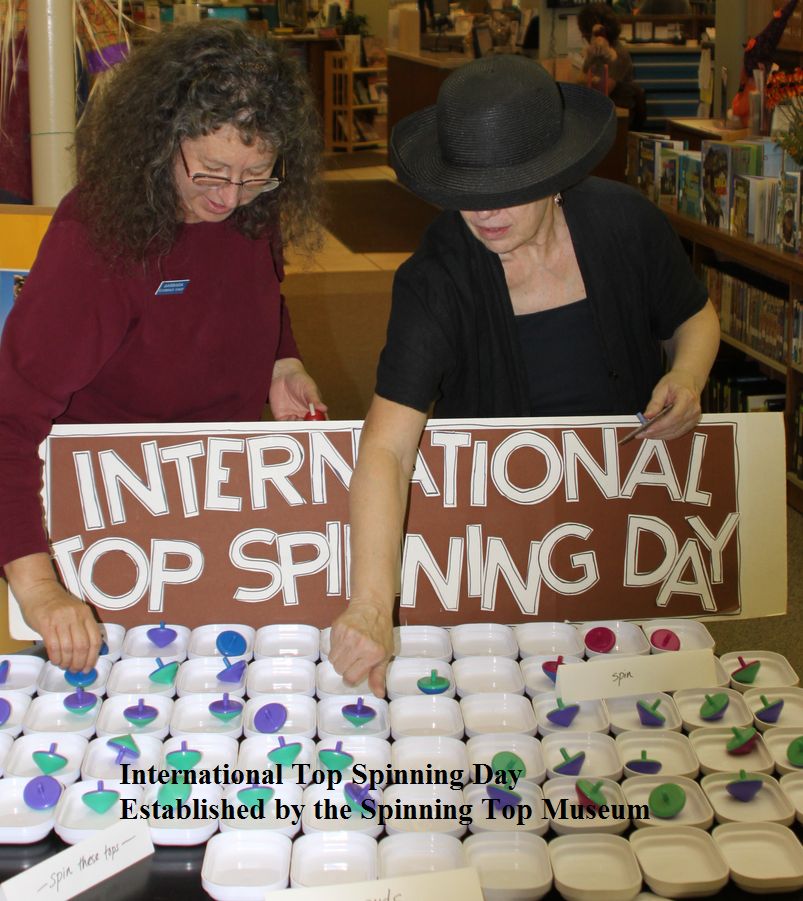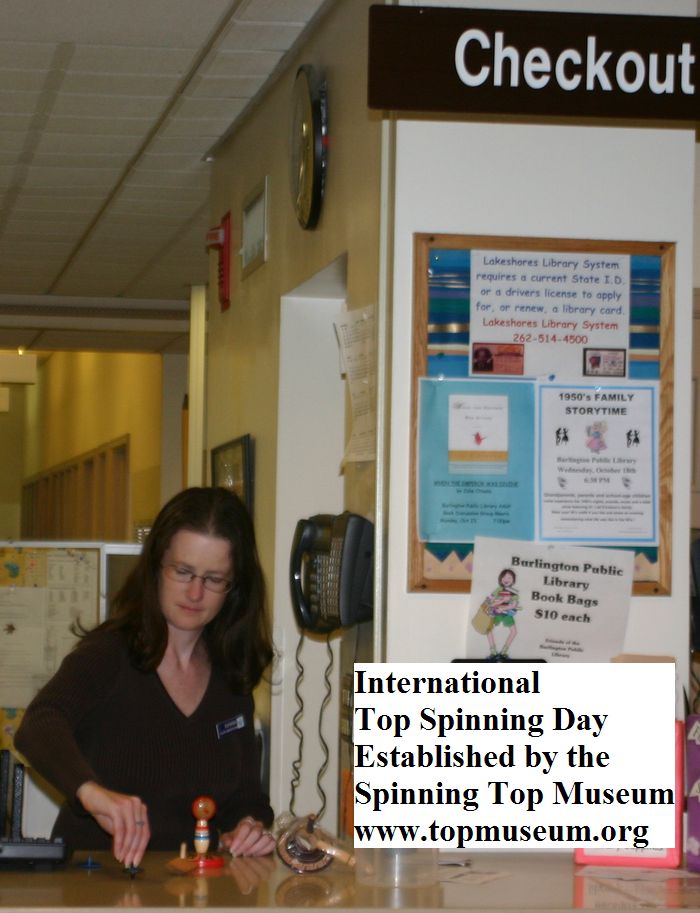 ---
??? What are tops called in other countries? ???
Scroll down to the bottom of this page..



---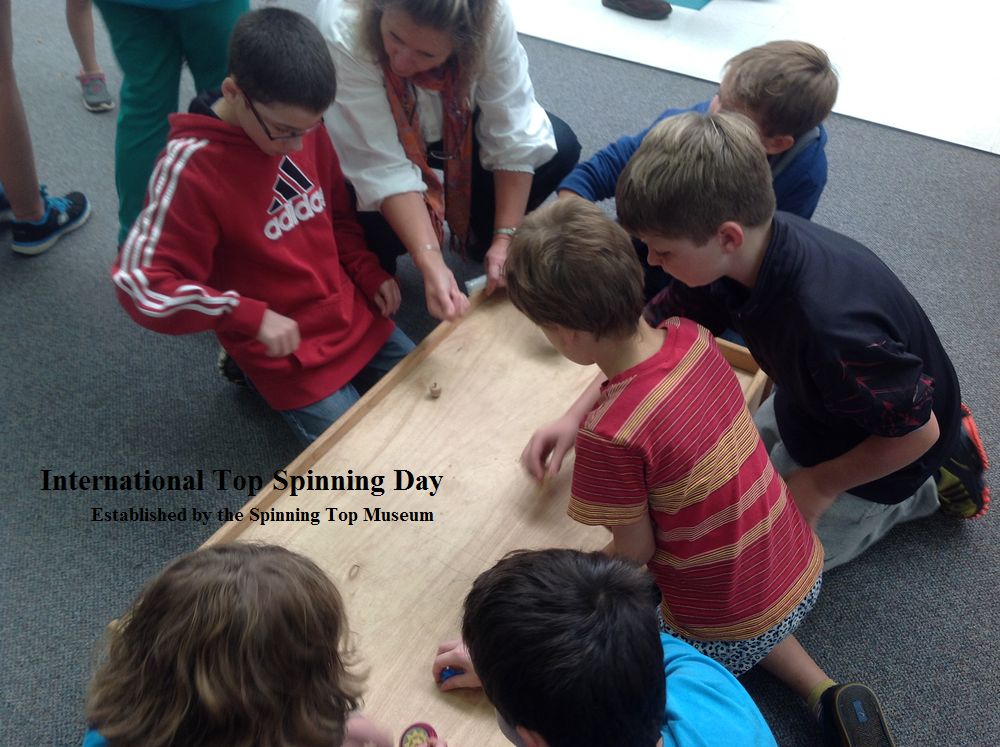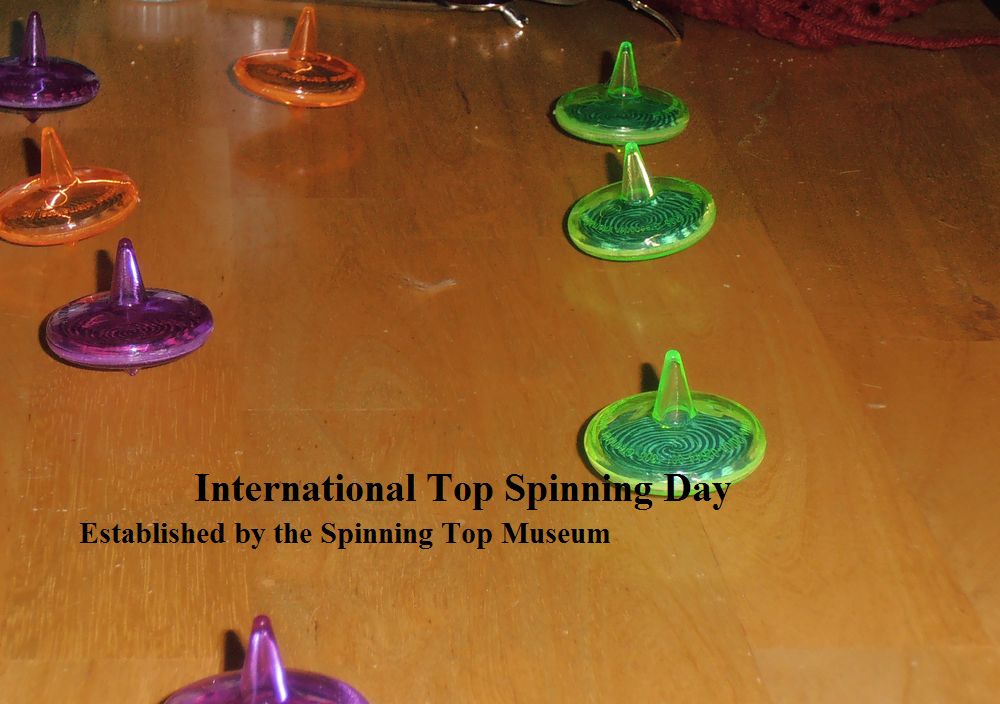 ---
Oct. 2009 a few of the reports:
Springfield, Illinois Today I spun several of the tops in my collectin totaling over 100 spins. I spun at the bank,
Subway restaurant, my office, and at church choir practice where each
of the choir members had fun spinning and I was able to tell them about your museum.
Kalaheo High School, Island of Oahu in Kailua, Hawaii. My students spun tops made of
Kukui Nuts. In Hawaiian, these tops are call hu. The nuts are the seeds
fromthe fruit of our official state tree, Kukui or Candlenut tree. About 30 students participated!


---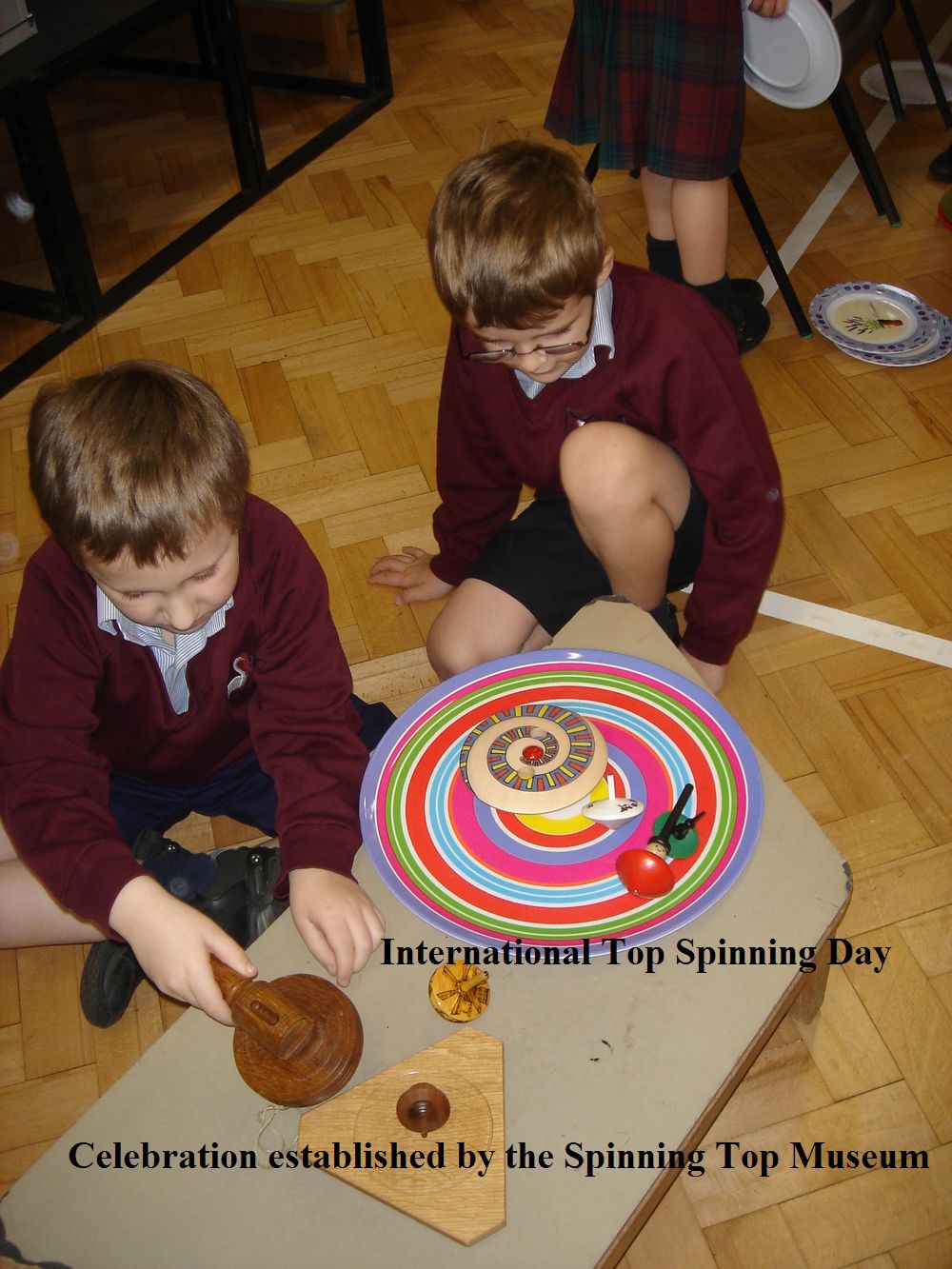 ..................................................................
SPIN A TOP (OR TOPS)
Get a group, school, neighborhood, place of work, or your family to take part.
Post a sign about it, so everyone knows you are celebrating the earth as a top!
Did you know that National Public Radio has talked about International Top Spinning Day !
and Nick, Jr. Magazine has written about it!
Teachers & students: ask your class or entire school to take part, ask students to bring in tops
a day before the date so you are ready, or provide a set for everyone to use.
Science: it's physics
Social Studies: it's a universal toy found in every culture, Spanish children call tops trompos
Math: calculate how many spins if everyone in your school spins a top 2 x or 3x
Geography: map all of the locations after the results are in from around the world
Art: optical illusions
Spin in UNUSUAL PLACES, too. (Family rated, of course.)
On top of the playground slide, on a boat or plane, in the school lunch room,
in the middle of the gym floor, on a CEO's desk, or?
We will list as many different places used, appropriate ones only.
AFTER: Please Email a small jpg photo, your comments, where you are: School name (grades, teacher's name),
City, State &Country, how many people took part, and how many tops were spinning, and where you spun tops.
(Each new spin counts toward the total) We will add you to the total… striving for at least 10,000 spinning tops spins!
Last year there were more than 20,000 spins. We may post some photos and a list of facts on our website afterwards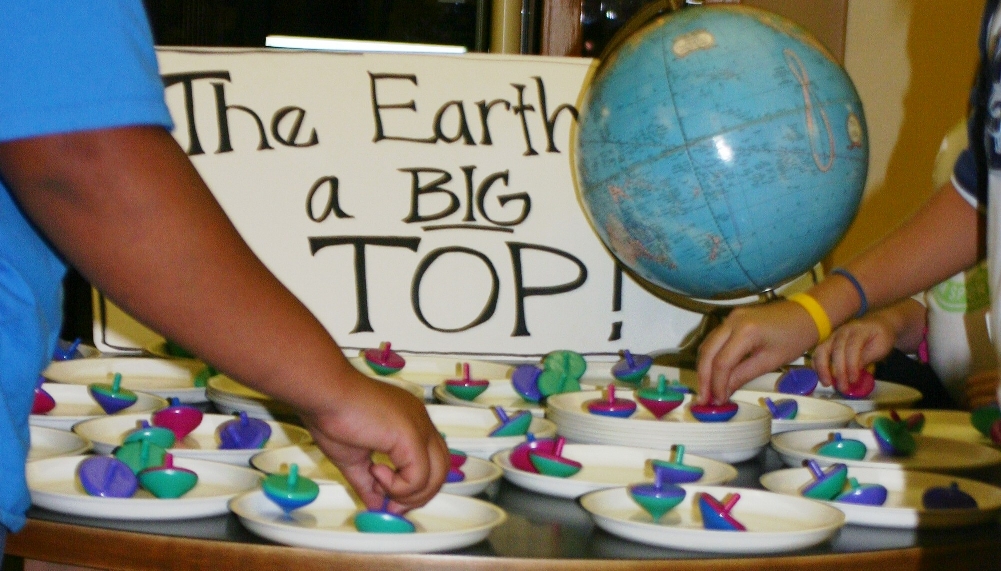 AND: we will be at the Burlington, Wisconsin Public Library
Wednesday night, Oct. 12, 2011 7 pm
with a table of tops to spin for free, to help add to the world wide total.

Sponsored by the non-profit Spinning Top & Yo-Yo Museum, Burlington, Wisconsin USA
www.topmuseum.org [email protected]
…………………………………………………………….