HOLLYWOOD & MGM CONNECT
TO OFFBEAT WISCONSIN MUSEUM
The Spinning Top & Yo-Yo Museum!
Did you ever wonder what its like to work on a Hollywood set or and MGM movie set?
Then visit the Spinning Top & Yo-Yo Museum in Burlington WI for a unique, fun & fast 2+ hour program.
You will meet The Top Lady, Judith Schulz, who has worked in Hollywood on the ABC TV show Fudge and
on the MGM movie set for the making of the film My Summer Story. This film is a sequel to the famous
A Christmas Story, with Ralphie wanting the Red Ryder BB gun.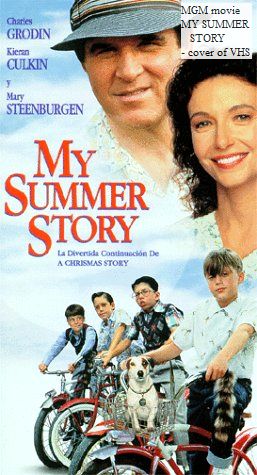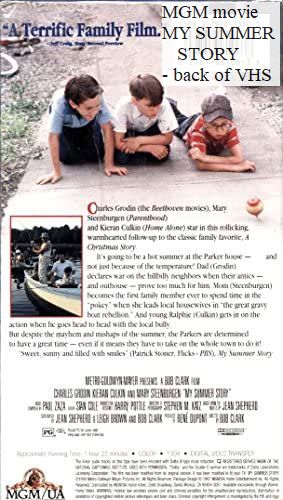 Schulz was hired to teach the movie stars how to spin tops and to produce movie tops, but after just one day on the Cleveland set, it was decided that she should actually be the top spinner for many of the scenes.

The producers said that they needed her skill and accuracy with these old-fashioned peg, throwing tops.
Instead of the usual one-line credit, she received a 4-line credit listing in the film's credits, considered high-recognition of the value of her work for the film. "Burlington, Wisconsin" was included in the credits with her name, which is of value to the area and state for recognition and tourism benefits. "We do get calls and visitors from all around the United States as a result of the movie credits," noted Schulz, "even bus and tour groups have traveled here because of it."
Cast of My Summer Story:: Charles Grodin, Mary Steenburgen, Kieran Culkin, Christian Culkin, Whit Hertford, Chris Owen, Geoffrey Wigdor, David Zahorsky, Tedde Moore, T.J. McInturff, Grover Dill, Glenn Shadix, Roy Brocksmith. Director Bob Clark, Producer Rene Dupont, story by Jean Shepherd. Tops Expert Judith D. Schulz
Her Hollywood work on the Amblin Fudge TV show set occurred three times. One of the Fudge episodes that she worked on was directed by Happy Days star Anson Williams (aka Potsie.) The ABC TV show Fudge is based on the books of well-known children's author Judy Blume, and ran for two years as a series following a Sunday Night Movie debut. The cast included Jake Richardson, Luke Tarsitano, Eve Plumb, Forrest Witt.
Above: Video VHS jacket My Summer Story, also out in DVD
The museum tour & program includes a presentation about working on these sets as an expert, a lively demonstration of rare tops, plus time to try 35 different hands-on tops and top games; view the exhibit of 2000 tops, yo-yos, gyroscopes; try the I Spy Hunt and watch videos.
The museum tour/program is best for adults, teens, and kids ages 4-104, not younger; and children must be with an adult.
Admission is per person, all ages. Call (262) 763-3946 ahead for tickets as a limited number are available.
The non-profit museum is at 533 Milwaukee Avenue,, downtown historic Burlington, Wisconsin with a website at www. topmuseum.org. Parking is free.


A special traveling presentation about working on the movie and in Hollywood is available for presentation at schools and events. Call for details and fees.
The Top Lady from the Spinning Top & Yo-Yo Museum worked on this MGM film called My Summer Story, the sequel to A Christmas Story.
See the actual tops from the movie when you visit the museum in Burlington, Wisconsin; and during the tour see a live top throwing demonstration by the expert using the movie tops! Always check website for tour times, as the museum is not open everyday.
My Summer Story is based on the writings of Jean Shepherd. This website has still photos from the movie and honors this American writer and humorist. Some of the movie tops are shown also!
List of Cast & Crew:
AND:
--Ripley's Believe It or Not TV Show, has a segment about the Spinning Top & Yo-Yo Museum.
--Discover Wisconsin TV produced and aired a piece about the Top Museum and the Logic Puzzle Museum.
--PBS' Wild Chicago TV show featured the Spinning Top & Yo-Yo Museum!
--segments in news shows have appeared on most of the major Milwaukee TV stations
--Madison, Wisconsin's WKOW TV produced a piece called Someone You Should Know, airing May 17, 2009 and video streamed on their website after that date.