HELP SUPPORT A
WONDERFUL FAMILY EVENT..........
SCIENCE, HISTORY,
AND AGELESS FUN
YO-YOS, DIABOLOS, JUGGLING, CUP n"BALLS, KENDAMAS,
SLINKYS, GYROSCOPES, HULA-HOOPS, PADDLEBALLS!
With your tax-deductible contribution to this unique event
given by an area non-profit, educational organization.
the Annual
Visitors have come from more than 10 states and three countries! Major yo-yo exhibits, demonstrations, pros and collectors to meet,
the Worldwide State Yo-Yo Contest (sanctioned for many years by the American Yo-Yo Association!), workshops, a paddleball marathon,
hula-hoop contest, and ageless fun including demonstrations of juggling, diabolos, gyroscopes, and Kendamas make up this month long event.
It is great for participants and spectators alike. Many generations come together: playing, learning, and enjoying the traditional fun of
spinning science things, balance devices, and action toys that require practice.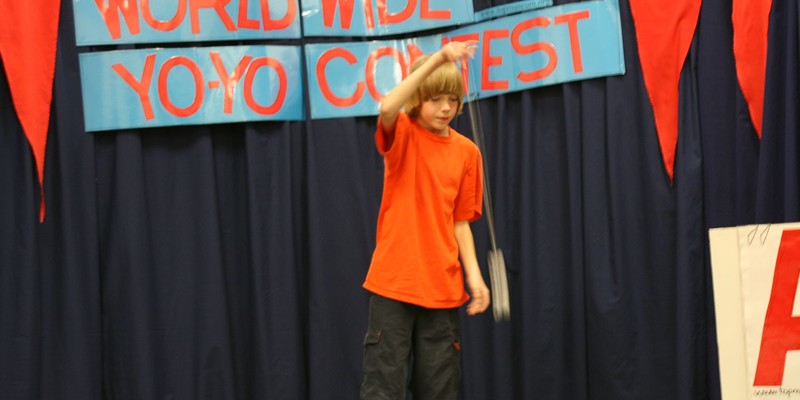 And the Yo-Yo & Skill Toys Convention is famous! Midwest Living Magazine, Nickelodeon Magazine Nick Jr, the Chicago Tribune;
AAA, Disney's national Family Fun Magazine have all recommended it as well area media. The BBC of London has called about it,
as well as a late-night TV show. The Smothers Brothers have also recommended the Spinning Top & Yo-Yo Museum to their
audience plus the Yo-Yo Convention has been featured on Discover Wisconsin TV and Gumbo TV, too!
…Your business or company can be a part of the success of this very unique event in a number of ways.
Donations and sponsorships to this organization are tax deductible to the fullest extent of the law.
TWO ways you can help:
1. PURCHASE ADVANCE
TICKETS TO GIVE AWAY
to your customers, employees, perspective customers, retirees, a local Scout troop, group home residents, a nursing home outing,
a local senior center, a science club, or a youth group?
It's like giving out smiles. Advance tickets for a variety of events are discounted for ticket purchase of 10, 25, 50, 75 and 100 tickets.
Not only are you giving good family fun to others, it helps to support the event and non-profit museum.
And wouldn't it be fun and memorable to say you helped an inter-nationally known Yo-Yo & Skill Toys Convention!
Give us a call for details.

2. BE AN HONORED SPONSOR
OF THE Annual YO-YO CONVENTION
You help to make it all happen….
___$100 ___$250 ___$500 ___$1000 ___$2,000 $___________other
If you would like to send a check, please make it out to Top Museum, and send to 533 Milwaukee Avenue, Burlington, WI 53105.
You will receive a letter regarding your contribution and/or tickets if you have ordered advance tickets.
We are happy to answer questions that you have about the event or museum.
Please call and/or take a look at our website for details. Look at www.topmuseum.org
or call (262) 763-3946 or email: [email protected]
And, we hope to see you at the Annual Yo-Yo & Skill Toys Convention.